How can I reuse or recycle big reels/bobbins?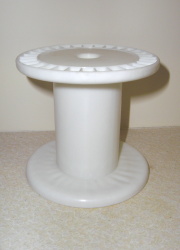 We've already covered cotton bobbins – they were one of the first things we featured on the site – but how about ones that are quite a bit bigger?
John threw this one-piece plastic reel at me the other day after he finished wiring up some speakers. I've also ones with a little metal (aluminium?) core and cardboard flanges (if that's the right word, I mean the sticky out bits at the top and the bottom), and really giant ones made from wood.
So any suggestions?
Related Categories
household
,
items
,
packaging
Search for other related items