How can I reuse or recycle soot?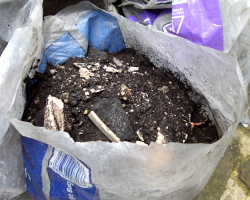 A bit of a weird one but we've opened up an old, long closed chimney recently and now have bags and bags of old soot. At the moment, it's earmarked as filler where we're levelling up a drastically sloped bit of the garden – all the rubble and stuff we're generating at the moment will go in there as misc filler – but I wonder if there is anything else that can be done with it instead of just being bulk.
Ash from fires can be put on compost heaps or beds as a fertiliser (albeit a rather alkaline one) and soot apparently can be used in a similar way but is best if left to "weather" for about a year. As well as being a fertiliser, it's apparently a deterrent for slugs. (Ours has, presumably, been weathering in the chimney for 30+ years so I'll keep some of it aside for that.)
Any other garden or household reuses for it? Any better alternatives to being misc filler?
Related Categories
household
,
items
Search for other related items