How can I reuse or recycle glowsticks / lightsticks?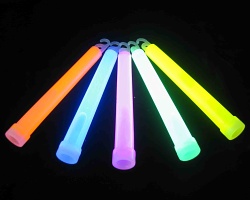 Victoria, the ska-core princess who makes fun jewellery out of buttons, wire and the like, has left us a question on our Suggest-An-Item page:
Any ideas for recycling use glow sticks?
The type you might get at raves and festivals with the non-toxic chemicals that create a reaction when the stick is 'snapped'.
*high five*
*high five* back to you ;)
While there is an obvious potential case for reduction in their use at festivals etc, according to the very detailed Wikipedia article on them, there are a lot of practical uses too because they're a waterproof light source that doesn't require electricity or create sparks, so even if every raver gave them up, they'd still be plenty hanging around.
I suspect actually recycling them will be difficult because of the chemical mix but anyone know more about them?
As for reuses, apparently "dyes used in glow sticks usually exhibit fluorescence when exposed to ultraviolet radiation. Therefore even a spent glow stick will shine under a black light" – perhaps they could be used to make art or as guide lines on walls etc in places with UV lighting?
Any other suggestions?
Related Categories
household
,
items
Search for other related items