How can I reduce the amount of babywipes I use?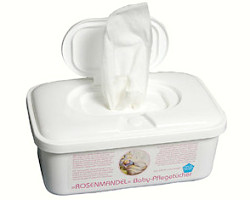 We've had a email from Jo:
Love the new Reduce This thing. I've got a question about babywipes. At home we use wash cloths for wiping sticky faces and hands but those little packs of disposable wipes are so much more convenient when we're out and about. Does anyone have any alternatives?
You could put a damp cloth in an old re-sealable baby wipe container – either a thick washcloth or thinner clothes like hankies. They probably would get mouldy if left in there for more than a few hours though so you'd would have to get into the habit of remembering to take them out again after your excursion.
There is, of course, always the spit-on-a-hankie method much loved in mum-stereotypes too ;)
Any other suggestions? What did your mum/grandma do?
Related Categories
baby
,
reduce this
Search for other related items