How can I reuse or recycle marbles?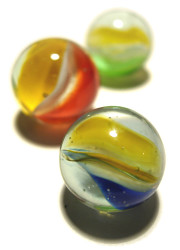 The other day on Things To Do Today, I mentioned marbles in passing and it made me think of the stash of marbles we have in our board-games-and-assorted-toys chest. You know, the stash we've probably touched once in five years.
They could, obviously, go to a charity shop for another generation to enjoy but since the orbs were so fiercely won in many heated battles over the years and hold fun memories, it would be nice to reuse them from something around our house or the like.
My ideas so far: jewellery (albeit heavy jewellery) with the marbles held in bead cages, on display in a clear glass vase or somehow made into a lightshade.
Any other ideas?
What about the really really bashed up ones that won't look so nice on show? I imagine they're handy weights – any good uses for them?
(Photo by asolario)
Related Categories
hobbies
,
items
,
toys
Search for other related items