How can I reuse or recycle paintbrushes?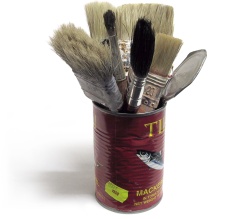 We've had an email from Sharon:
We've got a ton of old paintbrushes. They've gone stiff and hard. Any suggestions?
If the brushes have gone hard because they weren't cleaned properly, you might still be able to revive them by giving them a good clean with turps or the like. Failing that, or if they were clean to start with, apparently a ten minute soak in some hot white vinegar can revive ones used for water-based paints (soak it then wash it out with soap and warm water and leave to air dry).
Even if you don't get them back to perfect softness needed for a nice, smooth paint job, once clean, they can be used for cleaning hard-to-reach areas around the house or on a car's dashboard – in fact a little stiffness might help them getting into tiny nooks and crannies easier.
Charities that collect leftover paint for redistribution in the community also might be interested in them.
Any other suggestions?
Related Categories
household
,
items
Search for other related items