How can I reuse or recycle disposable nappies/diapers?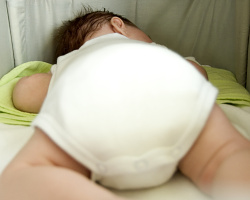 Obviously the greener option is to use reuseable nappies but Katie emailed to say:
Did you know that the new disposable nappies are full of 'swell gel', it's the same stuff you get from the garden centre to add to compost to retain moisture and costs around £5 a box.

I have started to re-use my grandson's nappies, just the wet ones! Rinse them in the shower until all the 'yellow' has gone and they don't smell.

Rip one end and squeeze them into your compost and hey presto, compost that doesn't dry out. Ideal if you live in an area that has hose pipe bans every summer.
To be honest, I'd be worried about throwing all those petrochemicals into my compost heap because my compost heap is used pretty much entirely for my veg bed but I like the idea – but I could imagine using them at the bottom of flowers tubs in the garden.
Any other suggestions for re-uses? I suspect there will be some overlap with the sanitary towel suggestions but I think the size/shape might lead to some new ideas too.
(Photo by pascal79)
Related Categories
baby
,
household
,
items
Search for other related items