How can I reuse or recycle … old loofahs?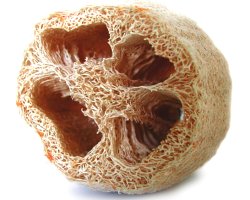 I've just gone to use our loofah sponge (aka luffa/loofer) in the shower and noticed it was black with mould along one side. I thought I'd been really good and let it dry thoroughly after each use but I guess I've slipped up somewhere, it's stayed soggy and the mould has taken advantage.
The thought of using something mouldy as a body scrubber doesn't really appeal but obviously I'm not just going to throw it away. So what other options are there?
It's a natural product (not a synthetic copy) so as a minimum, I could probably compost it – but I'd like to re-use it if possible. Any suggestions?
(Photo by Jerry Crimson Mann on WikiCommons)
Related Categories
bathroom
,
household
Search for other related items