How can I reuse or recycle … tree branches?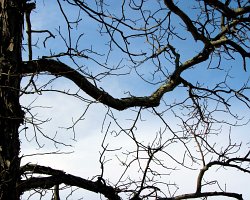 We've had an email from Sam:
I've just cut down a tree in my backyard. I'll compost the leafy bits but the branches would take far too long to rot. What can I do with them? I thought about getting one of those chipper things but they're expensive so do you have any other suggestions?
You could maybe rent a wood shredder – and see if any friends or anyone else in the neighbourhood has stuff to chop up and would be willing to share the cost – but it might cost more than you're willing to spend.
If there are some reasonably straight and not too thick branches, you could use them as plant supports in the garden or if they're quite flexible, make them a trellis for plants to climb up.
Any other suggestions?
(Photo by Louchiere)
Related Categories
garden
,
items
Search for other related items