How can I reuse or recycle hotel shampoo bottles?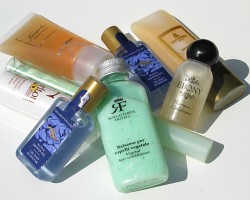 Back in the day, before I realised what an ecological nightmare they were, I used to yoink the mini shampoo bottles, soaps and leftover shower caps from hotel bathrooms, particularly when we stayed in fancy hotels and they came in interesting bottles and smelled of great things. I built up quite a collection and I know I'm not alone in doing so (hi mum!).
These days we take our own (full size or thereabouts) supplies with us when we go away but I'm also still working through the stack of these little bottles in the back of the bathroom cupboard.
Aside from refilling the empties for gym/spa/pool sessions when you don't want to lug a full bottle of shampoo or shower gel, does anyone have any other suggestions for reusing these little single-use-size critters?
Related Categories
bathroom
,
items
,
packaging
Search for other related items