How can I reuse or recycle … old potatoes?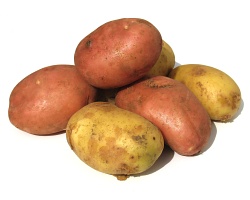 I bought a big bag of "reduced for a quick sale" potatoes a few of weeks ago and despite eating a good number of the starchy tubers, there are a few left at the bottom of the bag going quite, quite green.
Potatoes are one of the few things that grow in our clay-y north-facing garden so normally I'd happy plant out old ones and wait for new potatoes to grow in their place but with the weather as it is at the moment, I don't fancy their chances if it gets suddenly frosty – or my chances of not being blown away and/or drowned while trying to dig a hole for them.
So are there any other things I can do with them instead of planting them out/winging them into the compost bin?
(Photo by lusi)
Related Categories
food
,
items
,
kitchen
Search for other related items