How can I reuse or recycle … breakfast cereal gone chewy?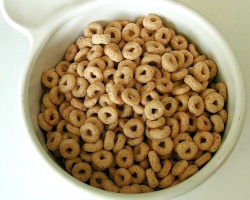 Had an email from Tori:
Hi! I read your blog about crackers that have gone soggy and I have the same problem with breakfast cereal. I go through phases of eating breakfast at home and always like to have something in, but it always seem to go soggy and chewy between phases.
I was wondering if any of your readers have any suggestions about what I can do with old cornflakes? I also eat Shreddies and bran flakes too. Thanks!
So any suggestions?
(Photo by annette)
Related Categories
food
,
items
Search for other related items