How can I reuse or recycle … plastic can holder things?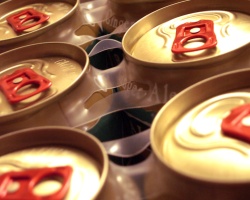 We went for a walk in a local wood the other weekend and while we were walking around, I saw one of those plastic things that holds together four packs of (usually drink) cans.
It was still intact so I picked it up to tear it apart (none of the non-existent deers that are supposed to live in that wood would be choke on it on my watch) but as I did so, it made me wonder whether those seagulls-killers have any possible reuses.
Any suggestions?
(Photo by celiece)
Related Categories
items
,
kitchen
,
packaging
Search for other related items