How can I reuse or recycle old compact discs (cds)?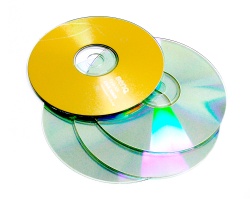 A few years ago, when everyone and their auntie was trying their luck during the ISP goldrush, we couldn't open the front door for the amount of AOL cds coming through the letter box each morning.
Thankfully, it's all slackened off a bit now but we still have stacks of old CDs to get rid of: data ones that have burnt wrong, ones that have been scratched and, on the rare occasion we still get them, those damn AOL-et-al cds.
The myriad of coasters we already own (3 different sets, 4 in each set) far exceeds the amount of coasters we use on a day-to-day basis (zero), so employing CDs to do the job – which is often the suggestion – isn't really going to be that useful to us.
So any other ideas? What other uses are there for them?

Best Suggestions
Reduce: Only burn new discs when you really need it to – use reusable USB keys or internet storage where possible instead.
Reuse: Use them as modern day scarecrows to deter birds from your veg plot or fruit trees. Or you can use them in crafts – they can be made into drop spindles for spinning wool or as a base for gift bags (see below).
Recycle: While not common, recycling facilities do exist – some details are below.
See the comments below for more suggestions and ideas
(Photo by bruno-free, c/o sxc.hu)
Related Categories
household
,
items
,
office
,
technology
Search for other related items