How can I reuse or recycle shampoo bottles?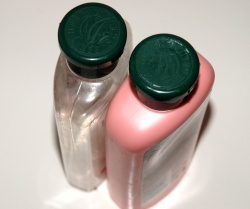 Shampoo bottles upset me. Not on the scale of, say, world poverty or abuse of political power but a minor gah most times I wash my hair.
I already buy the biggest bottles I can but still, lots of wasted plastic. The bottles seem so rigid and potentially useful but I have no idea what those uses might be, given they're typically narrow necked and their previous contents preclude using the bottle to hold anything that might be negatively affected by smelling like a chemical approximation of various fruits.
Any suggestions?

Best Suggestions
Reduce: Buy the biggest bottle you can since shampoo/conditioner doesn't go off. If your bulk bottle is too big to use on a daily basis, use it to refill another bottle again and again. You can also buy solid shampoo bars or make your own.
Reuse: Filled with water, they can act do the job of bricks in toilet cisterns. The often pretty coloured plastic can also be used in crafts.
Recycle: Check the bottom of the bottle to see what type of plastic it is – it's usually marked in a triangle – to see if you can recycle it with your other plastics.
See the comments below for more suggestions and ideas
Related Categories
bathroom
,
items
,
packaging
Search for other related items