How can I reuse or recycle old jars?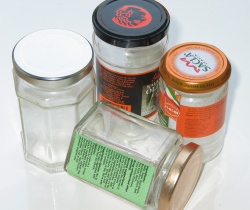 Between jam, honey, olives and sticky-sticky sauces from the Chinese supermarket, we go through quite a lot of jars and it seems a shame to just recycle the glass and bin the lid.
So any suggestions about how they can be used again? I know it seems, on the face of it, quite an obvious thing to be able to reuse but you never know what other people haven't thought of…
Oh, and it would also also be great if anyone knows any foolproof ways of
a) thoroughly degunking them (including smell, which always seems to linger on) and
b) getting the label and all the sticky off easily.

Best Suggestions
Reuse – Practical: Even if you don't make your own jams and pickles etc, you can still reuse cleaned jars – use them instead of plastic tubs in the fridge or to keep dried foods airtight in cupboards.
Reuse – Creative: Use them as a teeny-tiny greenhouse/terrarium.
Recycle: Glass jars can usually be recycled at bottle banks. Remember to take off the lid first though and recycle that separately if possible.
See the comments below for more suggestions and ideas
Related Categories
items
,
kitchen
,
packaging
Search for other related items