How can I reuse or recycle an old pushchair/stroller?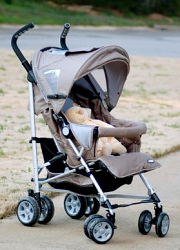 Walking down the road the other day – on the way to lunch, I spotted the wheels of a pushchair sticking out of a skip. The next time I walked past, the skip had gone so I couldn't grab it – but it got me thinking all the same.
I'd like to think that if it was still in a usable condition for a child, they'd have passed it onto someone else – there is an NCT nearly new sale nearby this weekend and it's been heavily advertised around here for weeks – so I presume it's damaged in some way.
But just because it's unsafe for a child doesn't mean it has no other uses. Our neighbour at the last house would have, as a minimum, reused the wheels for a go-kart or similar. I wonder what other bits could be used for…?
And if it, say, was broken — tears in the supporting fabric or wheel damage — does anyone know if there are any organisations which repair this type of thing for donation to those in need?
(CCA Photo by Chris Denbow. I was tempted to use this photo instead – such a handsome chap!)
Related Categories
baby
,
household
,
items
Search for other related items