How can I reuse or recycle Birkenstock sandals?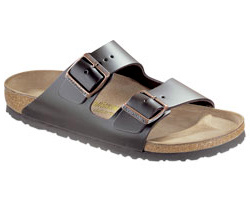 orangeterra left a comment on the "Suggest An Item" page:
What can I do with my old Birkenstock sandals? They're a combo of rubbery foam soles, cork footbed, and leather straps. Because they take the shape of my feet, I doubt they'd be good hand-me-downs, but I hate to toss them.
Birkenstock has a page about their green production/distribution policies and advice on repairing/maintenance suggestions to prolong the life of the sandals. Birkenstock USA also links to shoe redistribution charity Soles4Souls.
Depending on which bit of orangeterra's sandals has give way, they might benefit from a little repair – get a few more months out of them with new soles – or if the sole is good but the rest ruined/broken, they might be suitable for turning into slippers.
Any other suggestions? Or recycling links?
Related Categories
clothes and fabric
,
items
Search for other related items