How can I use up old mushrooms?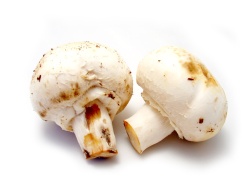 This is more a recipe request than a recycling thing but it saves them from the compost heap…
Despite our best efforts, we quite often find ourselves left with a couple of mushrooms when they're starting to get a bit bruised and, well, a bit slimey. And yet we can't always bring ourselves to just fling them out.
At what point, should they say hello to Captain Compost? And a few minutes before that, any particular recipes or dishes that hide the fact they're not as fresh as they might be? Or any other suggestions with things to do with them?
(photo by Mela, c/o sxc.hu)
Related Categories
food
,
items
Search for other related items