How can I reduce the amount of energy I use while cooking?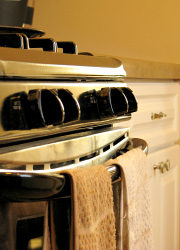 Alice's last "Reduce This" question is:
How to reduce the energy I use in cooking.

I've started putting any extra water I boil in the kettle into a thermos flask ready for the next cup of tea, but there must be loads of other ways to cut this down too.
We talked about ways to make the most out of boiled water back during our water week for World Water Day in March but I like this new focus on energy.
The biggest thing I think is using pan lids where possible – it amazes me how much less gas is needed to keep something at a rolling boil when there is a lid on the pan. I'd also recommend getting a range of pan sizes and using the most appropriate one for the task in hand particularly when boiling things in water – boiling eggs (which required a certain depth of water no matter what the diameter of the pan) being a prime example.
What have you tried? What works? What doesn't?
Has anyone tried alternative cooking methods to cut down on fossil fuel use such as solar ovens?
Related Categories
kitchen
,
reduce this
Search for other related items