How can I reuse or recycle odd or bent knitting needles?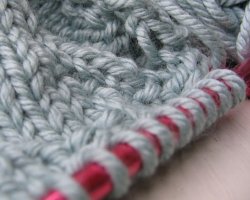 A few weeks ago, someone emailed me to ask for creative ways to re-use old shopping bags. I directed her to the shopping bags post we did last year and told her about my experience of knitting some flimsy bags into a heavy-duty shopping bag: I used large gauge needles and it was surprisingly easy and fun – until I accidentally leaned on one of the (plastic) needles and snapped it clean in half.
Recalling the story and my clumsiness made me realise I still have the odd knitting needles kicking about in my craft box and I wondered, as I frequently do, "how can I reuse or recycle that?"
I could keep it in my stash to use as a spare in the future but I hope I won't repeat my snap-happy snapping again so won't need a spare. My needle stash is already quite sizeable (thanks to eBay and raiding my mum's old needle collection) for the amount of knitting that I do and keeping spares might make it quickly spin out of control.
But what else can I do with the odd ones? Or what about the couple of bent ones I've got a little over-eager about a scarf? Some of them are grey plastic while the bent ones are usually grey-painted metal.
(Photo by n0nnahs)
Related Categories
hobbies
,
household
,
items
Search for other related items