How can I reuse or recycle deflated balloons?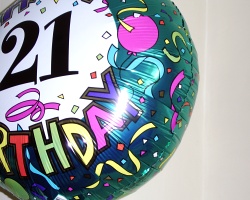 We've had an email from Rona:
My daughter turned 13 last week and got some of those helium balloons from members of the family to celebrate her new teenage status. They're slowly going down now and we don't know what to do with them when they're done. Can the foil be recycled like tin foil?
I suspect (but could very easily be wrong) that it's more like shiny plastic than actual foil so recycling like that is probably out of the question – but does anyone know otherwise?
I used to like keeping that sort of thing but didn't do anything creative with them – just folded them up in a box. Does anyone have any crafty ideas for using them?
Or what about normal balloons? Any practical or craft-y reuses for them?
(Photo by crayzwalz)
Related Categories
household
,
items
Search for other related items