How can I reuse or recycle egg boxes?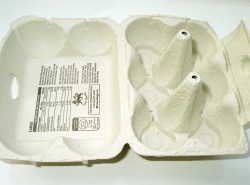 Turning over our compost bin is a ineffective nightmare. It involves precariously balancing on a metre-high brick wall and digging down, now below foot level, into the flimsy bin without using the sides of it for leverage in any way (because of the aforementioned flimsiness). Needless to say, it doesn't get turned that often.
But every time we do turn it over, egg boxes return to the surface, almost completely unchanged by their weeks of being surrounded by rotting matter. I suspect we would do better if we tore them up or soaked them with water before throwing them in, but it did make me think: they're clearly not as disposable as I thought, so what else could they be used for aside from the compost heap?

Best Suggestions
Reduce: Local grocers/farm shops that have trays of eggs will often let you refill an old box instead of taking a new one. Avoid picking up polystyrene boxes unless you plan to reuse them for new eggs – they have far fewer reuses.
Reuse: Like toilet roll tubes, cardboard boxes can be used as pots for seedlings or make into firestarters. They can also be used to soundproof rooms.
Recycle: Cardboard egg cartons can be added to compost heaps and wormeries – great to soak up excess water. Tear them up if you want them to break down quicker.
See the comments below for more suggestions and ideas
Related Categories
food
,
items
,
kitchen
,
packaging
Search for other related items