How can I reuse or recycle coconut shells?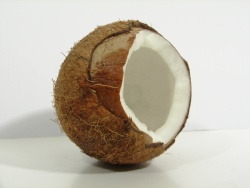 For reasons that seemed fun at the time, a few of years ago we halved and scooped out some coconuts. We clip-clopped up and down the street and around the house Monty Python style for a bit then the shells went in the cellar. There they stayed for a year or so then we found them, clip-clopped some more and then cellared them again.
Now, after a third bout of clip-clopping for the amusement of local children, the empty shells are now living in the garden and are really begging to be reused to save them from involvement in more repeat attempts at "humour".
Any suggestions of things to do with them?
(Wonderful picture by minmax, c/o sxc.hu – because ours were too soggy to photograph well)
Related Categories
food
,
items
,
packaging
Search for other related items