How can I reuse or recycle newspapers?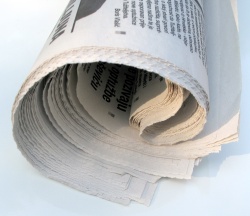 John and I prefer the 'reduce' option when it comes to newspapers and choose to read our news online most of the time. But every now and then, we buy a paper to read on a journey or over lunch, or get a free ad-rag shoved through the letter box.
It seems a shame just throw them in the green bin once we're done – but aside from keeping a few around for temporary dustsheets, we don't have that much use for them.
Any ideas?

Best Suggestions
Reduce: Read the news online and if you really want to read a specific article offline, you can print it out (double-sided, draft quality) – printing out an article a day will still save a lot of paper compared to buying a full newspaper filled with bits you might not read.
Reuse: Use them with vinegar to clean windows and mirrors, press them into logs for the fire or pots for seedlings, or use them to "bulk out" heavy soil or compost.
Recycle: Newspapers are widely accepted in doorstep recycling bins and at local household waste centres.
See the comments below for more suggestions and ideas
(Photo by lusi, c/o sxc.hu)
Related Categories
household
,
items
,
paper & stationery
Search for other related items