How can I reuse or recycle washing machine drums?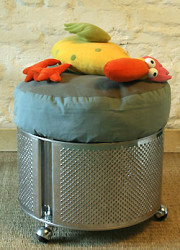 We've had an email from Nathalie, telling us about the fab ottoman she made from an old washing machine drum (links includes full instructions). She also links to another site where one has been turned into a floor lamp – very cool.
Involving less crafts, I've also seen them used as planters in allotments (since the holes let excess water drain away) and an outside toy bin in a garden – so they're obviously versatile little chaps but has anyone else got any other suggestions?
(Image courtesy of Nathalie and Esprit Cabane)
(Oh, and we got a mention on Zaproot yesterday – a cool eco-show. If you're already here, you already know about us of course but still, it's nice to be mentioned.)
Related Categories
household
,
items
,
technology
Search for other related items