About the authors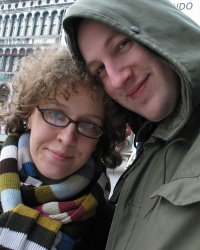 "How can I recycle this?" is run by Louisa Parry and John Leach.
Louisa (http://twitter.com/louisa_) manages the site on a day-to-day basis – writing the posts & guides, responding to comments & emails, designing the site & new features, and promoting the site around the web – while John (http://twitter.com/johnleach) helps out with the über-technical side of things.
We live together in West Yorkshire, UK and spend a lot of time harbouring junk to make use of it at some random time in the future. Running this site gives us many ideas for things to make and ways to reuse things around the home.
We live with four, three two (*sob-sob*) feisty felines, a lovely old springer spaniel and four chickens.
In addition to running this site, Louisa also blogs about growing, cooking & making – and living a frugal life – at TheReallyGoodLife.com, and runs Recycle This's sister site Compost This, an easy to use guide to composting. Meanwhile, John is a co-founder and the Technical Director of Europe's leading Rails web hosting company, Brightbox. He's also very, very funny.
We hope you enjoy using the site and that it inspires you to reduce, reuse and recycle.